Your wedding day is one of the most memorable days of your life and we aim to provide a service that will meet all your expectations and dreams. From the moment you arrive, our professional staff will guide you through your day ensuring that all your needs are catered for.
Start your wedding in true style with a glass of champagne and hand made canapés in our grounds, then sit back and relax with your family and friends whilst enjoying the finest Wedding Breakfast here at Ye Olde Plough House.
We will then take you through the evening function with music, fine food and drink, and an unsurpassed venue, that will hopefully stay in your memories for a lifetime.
See our Special Offers page for great wedding deals.
Wedding Open Days 2020 - Sunday 19th January 2020, Sunday 17th May 2020, Sunday 13th September 2020, Sunday 29th November 2020
Fill in the form below to download our 2019-20 wedding brochure
Wedding Packages
Low Season Package in our Monks Barn
Based on 70 Day guests & 120 evening guests
Package includes
Room Hire Charge (Tables, Chairs, White Table Linen, Cutlery, Crockery, Glassware)
A selection of Bucks Fizz, Sparkling Wine, Lager & Orange juice on arrival (1 per person)
A selection of Homemade canapes waitress served in our Gardens
Three Course Wedding Breakfast including Coffee & Mint
Half a bottle of House wine per person (a selection of Red, White & Rose)
1 Glass of Sparkling wine per person for Toasting
White Chair Covers with a Sash (Colour of your choice)
Evening finger Buffet Catering for 75% of the total evening guests (example: 75% of 120 guests = 90 guests catered for)
Bridal suite for your evening stay including breakfast (access from 2pm)
Light up LOVE Letters
Changing Room for the Bride or Groom access from 9am
Crystal Globe or Light up Tree Centre Pieces
Traditional Cake Stand & Knife, cutting of your cake
Table plan Easel, Table Number Holders
Background music throughout the meal, Private Bar & Front of House Manager
2021 Prices
All prices are inclusive of VAT
Thursday to Sunday. January & February - £4850.00
Thursday to Sunday. March - £5050.00
Monday to Wednesday. January - December - £4850.00
Thursday. April, September, October & November - £4850.00
---
Additional Adult Day Guests £55.00 per person. Additional Child Guests (under 10) £20.50 per person. Additional Evening Guests £12.00 per person
2022 Prices
All prices are inclusive of VAT
Thursday to Sunday. January & February - £5000.00
Thursday to Sunday. March - £5100.00
Monday to Wednesday. January - December - £5000.00
Thursday. April, September, October & November - £5100.00
---
Additional Adult Day Guests £55.00 per person. Additional Child Guests (under 10) £20.50 per person. Additional Evening Guests £12.00 per person
---
Gold Package

in our Monks Barn
Based on 80 Day guests & 120 evening guests
Package includes
Room Hire Charge (Tables, Chairs, White Table Linen, Cutlery, Crockery, Glassware)
A selection of Bucks Fizz, Sparkling Wine, Lager & Orange Juice on arrival (1 per person)
A selection of Homemade canapes waitress served in our Gardens
Three Course Wedding Breakfast including Coffee & Mint
Half a bottle of House wine per person (a selection of Red, White & Rose)
1 Glass of Sparkling wine per person for Toasting
Ivory Chair Covers with a Sash (Colour of your choice)
Evening finger Buffet Catering for 75% of the total evening guests (example: 75% of 120 guests = 90 guests catered for)
Bridal suite for your evening stay including breakfast (access from 2pm)
Resident DJ for your evening reception
Changing Rooms for the Bride or Groom access from 9am
Traditional Cake Stand & Knife, cutting of your cake
Table plan Easel, Table Number Holders
Background music throughout the meal, Private Bar & Front of House Manager
2021 Prices
All prices are inclusive of VAT
Saturday. May – September £8500.00
Friday & Sunday. May – September £7700.00
Friday, Saturday & Sunday. April & October £6500.00
Thursday. May – August - £6500.00
---
Additional Adult Day Guests £55.00 per person. Additional Child Guests (under 10) £20.50 per person. Additional Evening Guests £15.00 per person
2022 Prices
All prices are inclusive of VAT
Saturday. May – September £8700.00
Friday & Sunday. May – September £7700.00
Friday, Saturday & Sunday. April & October £6700.00
Thursday. May – August £6500.00
---
Additional Adult Day Guests ££55.00 per person. Additional Child Guests (under 10) £20.50 per person. Additional Evening Guests £15.00 per person
---
Platinum Package

in our Monks Barn
Based on 80 Day guests & 120 evening guests
Package includes
Room Hire Charge (Tables, Chairs, White Table Linen, Cutlery, Crockery, Glassware)
A selection of Prosecco, Pimms & Lemonade, Bucks Fizz, Lager & Fruit Punch on arrival (1 per person)
A selection of Homemade Luxury canapes waitress served in our Gardens
Three Course Wedding Breakfast including Coffee & Luxury Mint
Half a bottle of House wine per person (a selection of Red, White & Rose)
1 Glass of Champagne per person for Toasting
White Chair Covers with a Sash (Colour of your choice) Or Chivari Chairs with Sash (Colour of your choice)
Evening finger Buffet or Hog Roast Catering for 75% of the total evening guests (example: 75% of 120 guests = 90 guests catered for)
Bridal suite for your evening stay including breakfast (access from 2pm)
Light up LOVE Letters
Changing Room for the Bride or Groom access from 9am
Sweetcart with a selection of 10 Retro sweets
Cut Crystal Glasses
2 x Standard Bedrooms for 1 night including breakfast (Double or Twin)
Traditional Cake Stand & Knife, cutting of your cake
Table plan Easel, Table Number Holders
Background music throughout the meal, Private Bar & Front of House Manager
Resident DJ for your evening reception
2021 Prices
All prices are inclusive of VAT
Saturday. May - September - £10,350.00
Friday & Sunday. May - September in March - £9550.00
Monday to Thursday. January - December - £8550.00
Friday to Sunday. April & October - £8550.00
Additional Adult Day Guests £72.00 per person. Additional Child Guests (under 10) £20.50 per person. Additional Evening Guests £15.00 per person
2022 Prices
All prices are inclusive of VAT
Saturday. May - September - £10,550.00
Friday to Sunday. May - September in March - £9550.00
Monday to Thursday. January - December - £8550.00
Friday to Sunday. April & October - £8750.00
Additional Adult Day Guests £72.00 per person. Additional Child Guests (under 10) £20.50 per person. Additional Evening Guests £15.00 per person
Ultimate Wedding Decor Package
Choice of Luxury Flower wall
Floral Top Table Decoration
Welcome Sign or Table Plan Mirror
LOVE Light up Letters
Lockable Post Box
8 x Centre Pieces choose from Light up Trees or Crystal Globes (Upgrade to Blossom Trees for £15.00 per table)
£480.00 - Saving of £75
---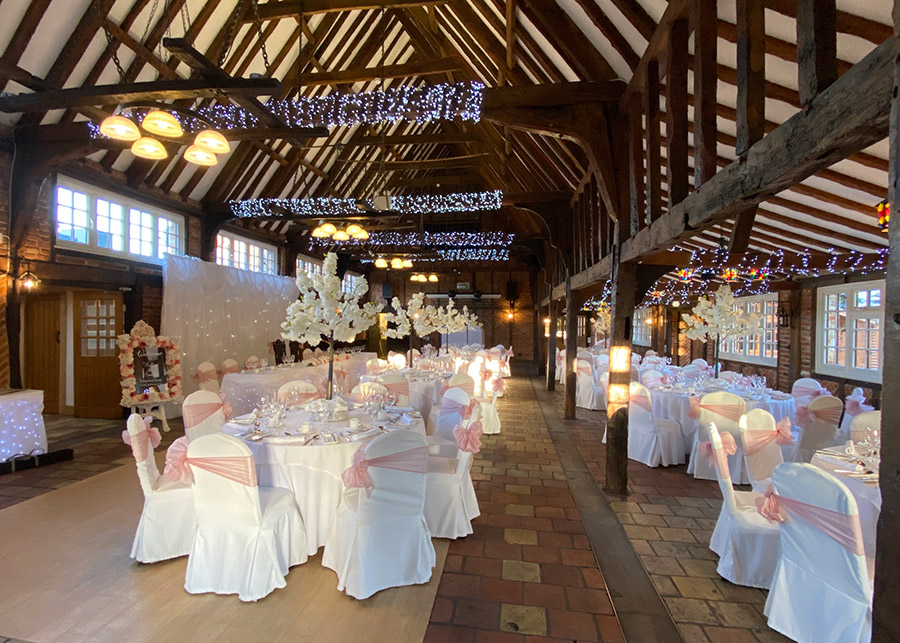 "My Husband and I would like to say a big thank you for the hard work you all put in to make our Wedding perfect!! Thank you all."
"Thank you so much for all your help making our Wedding Reception perfect from set up, to welcome drinks to dinner and the overnight stay. We had a wonderful day."